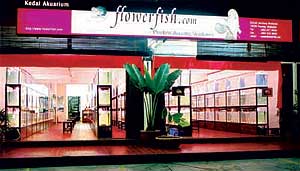 We bade farewell to our flagship store-cum-retail outlet in Dec 2008. It had served us well since our inception but due to the lack of local buyers, we shut it down to cut costs.  The store used to be a retail outlet and also selection center for quantity purchasers.
When we had the facility, all the ready-for-sale fishes were transported from our farm (about 45 minutes away) to the store for more "finishing" and priming. Just now, we will be doing all these activities right at the farm itself.
All the tanks in the store has been relocated to our farm and set up for the finishing process.
With heavy hearts….good bye to Flowerfish's beautiful store.